Carpet is the floor covering of choice in Australia and it is easy to see why. Read here about the benefits of carpet in commercial use. On another page you'll find more about carpet benefits in residential use.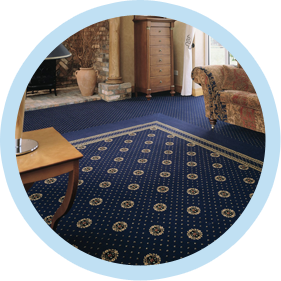 Value for Money
With the wide range of carpet available, there is a solution for practically every budget and décor need.
When comparing prices on vinyl, wood, ceramic tiles, remember that carpet is often sold by the broadloom metre (1m x 3.67m) while most other products are sold in square metres (1m x 1m). That means you are getting around 3½ times more carpet for the comparable square metre price of other products.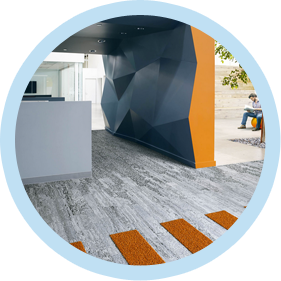 Design Flexibility
Available in tiles, sheet goods and broadloom, carpet offers a huge range of styles, colours and surface textures. Visit the websites of Manufacturers, Retailers and Product & Service Suppliers to see their ranges – the choice has never been greater.
Additionally, carpet's unique design flexibility allows for wayfinding, visual cues, and increases the overall positive aesthetic of the environment.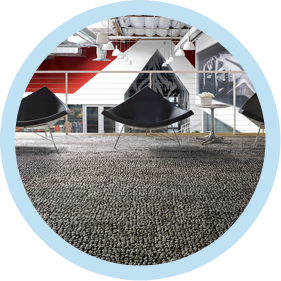 Comfort
Carpet gives a feeling of well-being. People feel comfortable in a carpeted room even if the temperature is a few degrees lower than in a non-carpeted room.
Ergonomics
Compared to hard flooring, carpet provides underfoot comfort and reduces standing and walking leg fatigue.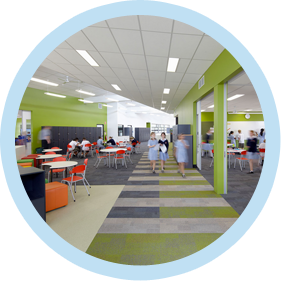 Slip Resistance
Wall to wall carpeting is an inherently slip resistant floor covering that, when compared to hard non-impact absorbing surfaces, reduces the risk of slips and falls and the severity of injuries when accidents occur. This is particularly important for vulnerable groups – the elderly and children.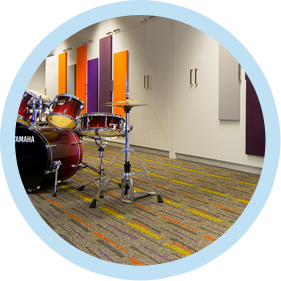 Acoustics
Carpet is the only floor covering that can significantly reduce impact and reverberation noise, creating a quieter environment, better social interaction, increased privacy, better speech intelligibility and cognition, and less stress.
Carpet is much more efficient in noise reduction than any other flooring surface.
While there are other sound absorption alternatives such as acoustic ceiling tiles and panels, they do not reduce floor impacts and for this reason cannot achieve the same overall reduction in noise levels.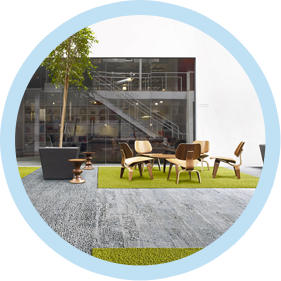 Indoor Air Quality
Carpet's pile surface traps airborne dust containing allergens and absorbs harmful contaminants from inside and outside the building.
Well maintained carpet helps purify the air by reducing indoor pollutants that can trigger allergy and asthma in sensitized people. A major study by the German Allergy and Asthma Foundation (DAAB) found that wall to wall carpet reduced dust in the air to 50% of that found above hard flooring surfaces. The researchers concluded that "for particularly sensitive persons already suffering from previous damage to their airways, the selection of a flooring material that binds dust and does not emit it to the air to be breathed is an essential preventative aspect". (ALLERGIE konkret 2/2005).
Read more about the health considerations when choosing the right carpet.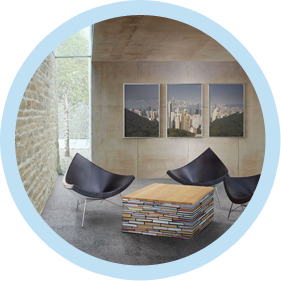 Glare Control
Natural light increases glare and makes hard surfaces appear slippery and wet – a potential hazard. In contrast, carpet provides glare absorption.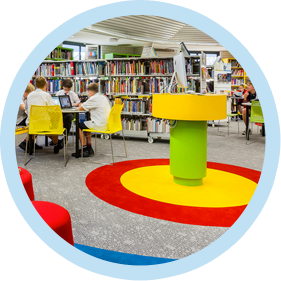 Thermal Insulation
An exceptionally good insulating material, carpet can help to lower energy costs in heating and cooling resulting in reduced Greenhouse gas emissions.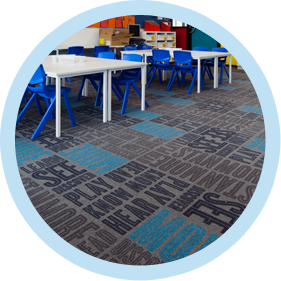 Maintenance
An appropriate maintenance plan devised by an experienced cleaning professional is necessary to ensure acceptable overall carpet performance.
According to data published by the US Building Owners and Managers Association, the cost of maintaining carpet in high use buildings is about half the cost of maintaining vinyl. (Berry M, 2003) A life cycle cost analysis of floor coverings in heavy traffic areas over a period of 22 years found than vinyl was 53% more expensive to maintain and replace than carpet. (Bishop J, 2002)