Carpet is by far the most popular and versatile floor covering solution on the market. And it's easy to see why. Read here about the benefits of carpet for residential use. On another page you'll find more about carpet benefits in commercial use.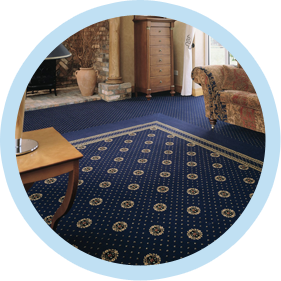 Value for Money
Carpet is the major floor covering in Australia because of its beauty, comfort, quietness and safety; providing a slip resistant surface which is particularly important for vulnerable groups (the elderly and young children).
With the wide range of carpet available, there is a solution for practically every budget and décor need.
When comparing prices on vinyl, wood, ceramic tiles, remember that carpet is often sold by the broadloom metre (1m x 3.67m) while most other products are sold in square metres (1m x 1m). That means you are getting around 3½ times more carpet for the comparable square metre price of other products. Read More.
Check out our Ten Tips for Buying and Owning Carpet to help you make the right carpeting choice.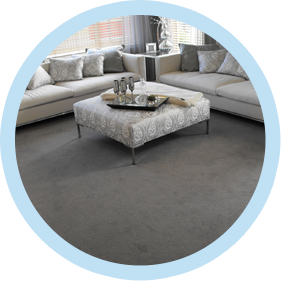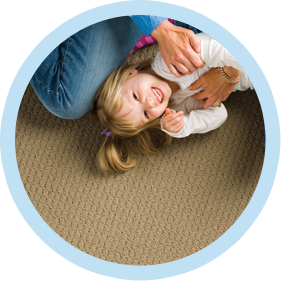 Warmth and Comfort
Experience the feeling of warmth and inclusion with soft cushioning and underfoot comfort.
Carpet gives a warm, soft cosy feeling. People feel comfortable in a carpeted room even if the temperature is a few degrees lower than in a non-carpeted room.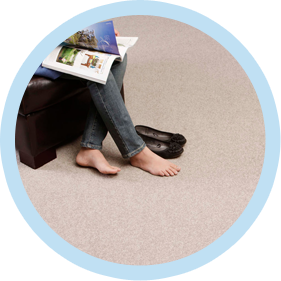 The Healthy Flooring Choice
Contrary to urban myth, carpet makes a very positive contribution to human health and wellbeing.
Well maintained carpet also helps purify the air by reducing indoor pollutants that can trigger allergy and asthma in sensitized people. Carpet's pile surface traps airborne dust containing allergens and absorbs contaminants from inside and outside the building, including volatile organic compounds (VOCs).
A major study by the German Asthma and Allergy Society (DAAB) found that wall to wall carpet reduced dust in the air to half that found above hard flooring surfaces. The researchers concluded that for particularly sensitive persons already suffering from previous damage to their airways, the selection of a flooring material that binds dust and does not emit it to the air to be breathed is an essential preventative aspect. (ALLERGIE konkret 2/2005).
Carpet also contributes to a quieter indoor environment by reducing excessive noise, which is a major cause of stress and irritation.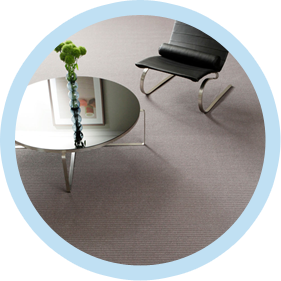 Safety
Carpet, an inherently slip resistant floor covering, reduces both the risk of accidents due to slips and falls, and the likelihood of serious injury when slips and falls occur.
For small children, carpet cushions the falls that come with learning to crawl or walk. For the elderly, slippery hard surfaces can be extremely hazardous.
Carpet matched with a good underlay gives the best possible protection against serious injury resulting from slips and falls in the home.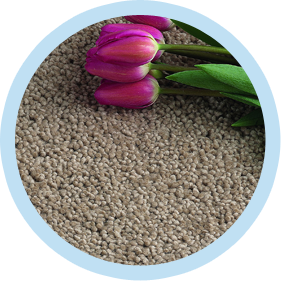 Thermal Insulation
Carpet is an exceptionally good thermal insulator.
The insulation value of carpet is similar to fibreglass insulation and can be up to ten times higher than that of other floor coverings. Further increases in thermal insulation are obtained when carpet is installed over underlay.
Carpet can help to significantly reduce energy costs in heating and cooling, and hence greenhouse gas emissions, when there is a temperature differential between the indoor air and that under the floor. Uninsulated floors account for 10 to 20% of heat loss from a home.
A carpeted floor feels warmer underfoot and does not require the heating that a room with a smooth surface may. This will add further energy savings.
The greatest benefit from a carpet is obtained when as large an area as possible, preferably wall to wall, is covered. This is because the reduction in heat loss is proportional to the area carpeted.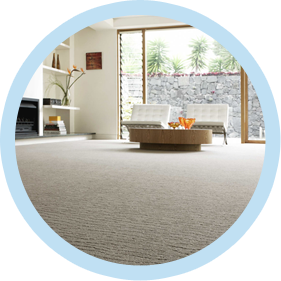 Acoustics
Carpet softens harsh sounds and creates a quieter, more peaceful indoor environment.
The installation of carpet and underlay is the only method available for eliminating excessive noise generated by floor impacts such as noise produced from footfalls, chairs scraped across the floor and objects dropped on the floor. This is particularly important in homes where children running and jumping can produce heavy floor impacts, contributing greatly to ambient noise levels.
Carpet and underlay also help to control sound reverberation, the term used to describe the degree to which sound lives on within a room. Reverberant homes are generally noisy and 'echoey' places where speech communication, particularly over the phone, is difficult.
The installation of carpet and underlay will bring long reverberation times down to acceptable levels. While there are other sound absorption alternatives such as acoustic ceiling tiles and panels, they do not reduce floor impacts and for this reason cannot achieve the same overall reduction in noise levels.
Noise attenuation is yet another reason why carpet is an excellent floor covering choice where functionality and fashion are important.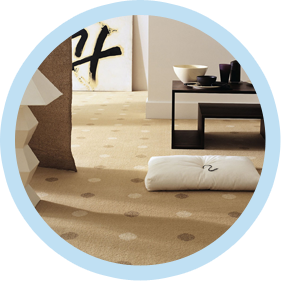 Ease of Maintenance
A good vacuum cleaner, prompt attention to spills and having carpet professionally cleaned every 12 – 18 months will help to retain the new carpet appearance for as long as possible and ensure that the carpet continues to make a positive contribution to indoor air quality.